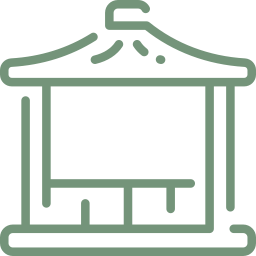 Is that garden missing a gazebo?
A cover for that hot tub. A perfect place for al fresco dining. A sheltered spot for a garden party. A gazebo offers a great deal of versatility when it comes to utility and it doesn't do any harm to your property's market value either. But it needs to be designed and professionally constructed and that means a specialist - which is where our team at Moorland Timber Products in Kirkbymoorside come in.
Our Gazebos
If you're looking to add a gazebo to your outdoor space, we can provide one. Custom-built, we can provide a gazebo that's completely tailored to your property and the atmosphere you want to create. They come in various materials, including Douglas fir and Weston red cedar and we also provide pine and spruce versions too. There are also a number of roofing options, including felt shingles, cedar shingles, slate and tile. Whatever you're looking for, we'll strive to provide a finished article that meets your specifications. From our base, we cover a wide region, including Pickering, Thirsk, Northallerton, Richmond and Catterick.